How a paid social media strategy helped increase leads for Aventus Clinic
Aventus Clinic is a private clinic offering advanced treatments for hair and skin rejuvenation to help its clients look and feel their best.
Aventus Clinic had tinkered with ads in the past, but didn't have a dedicated resource to manage them and didn't have a firm strategy. They had very little return on investment from their ad spend and felt frustrated. Medical Director Suhail booked in for my Facebook ads Bootcamp. The Bootcamp offers clients an overview of Facebook ads and a deeper understanding of Facebook Business Manager. Following the session, Suhail realised that he wanted to outsource the ads for the clinic and I started to work on them for him. I have spend a time understanding his client's customer journey and I have worked with him to test new ad creatives and copy for the various treatments he offers. With regular catch-ups I update Suhail on the performance of the ads and he feels confident that his ads are being monitored on a daily basis and optimised.
When I start working with my clients I work to develop an understanding of their own customer's journey. Which, is the journey a client will go on from not knowing them to buying from them (and beyond). From there I can develop the initial ads strategy. I then spend time researching what competitors are doing, what audiences to build, what creatives and copy to develop to test. I review the ad results on a daily basis and optimise the ads. This involves a lot of testing and is an ongoing process.
Suhail is seeing significant growth in his client base month on month and it is a pleasure to work with him.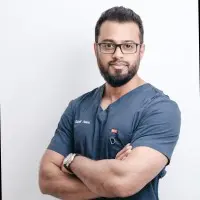 "Having a good FB ads strategy and campaign is imperative for most businesses. There are many that claim to offer this service and I have tried several individuals and agencies but with little success. As a start-up business, I do not have a huge ads budget and need to make every pound count. I reached out to Sarah at Wildly Social Media and after the initial chat I was very optimistic. She took the time to listen to me, understand my market and business goals. Using her Marketing experience and knowledge of FB ads she has been consistently delivering good results. She is very responsive, timely and always finishes the agreed objectives. It's a pleasure working with Sarah."